---
Best viewed with "Buffied" font :- Download
As the spirit of Elvis visits GMA,

we see a vision of our own...
A late Hallowe'en -

or an early Xmas present?
Now what would 'Buffy' do with one of these ?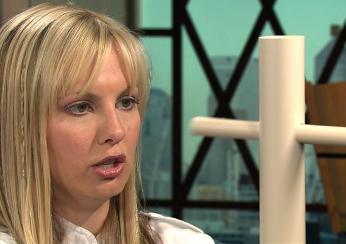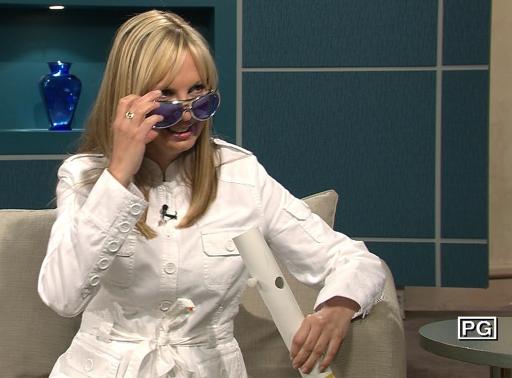 'Thank you very much !' to Carolyn for all the nice close-ups.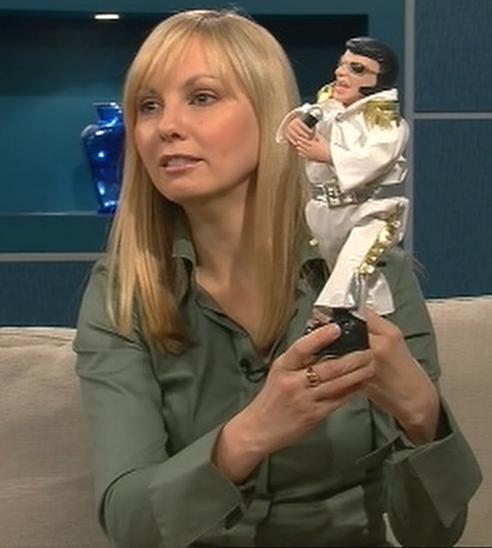 ---
And now for some GMA
Patti Newton, Bert, Ann-Maree
Multi-Celebrity Wallpaper
Trick or Treat ?

Treat :- Bert always wanted to be an icy pole...

Click on a size :-
Ann-Marie - Bert - Patti Newton - Good Morning Australia
Patty MacGrath The Tarax Show Patti with her first true love - Gerry Gee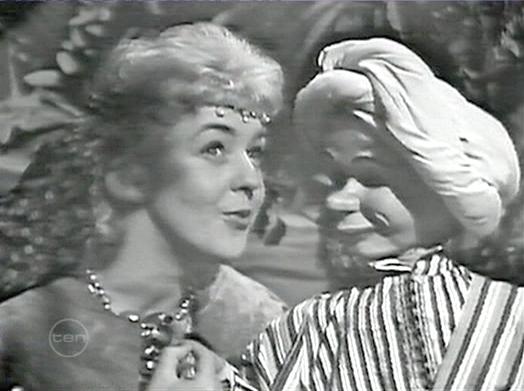 The Tarax Show - 1960's
---
| | |
| --- | --- |
| | Go Up |
---

SKY NEWS - ELVIS JUMP SUIT TOPS POLL
Around 14,000 fans were asked what they thought in a survey by high street store chain Woolworths.

Elvis Presley's jewel-encrusted white jump suit has been voted the greatest, most memorable, rock outfit of all time. K y l i e M i n o g u e 's gold hotpants came a close second in a poll, reports the Sun.
They gave a resounding thumbs-down to the rip-off dresses worn by the B u c k s F i z z girls in the 1981 E u r o v i s i o n contest, branding them the worst outfits. B a d l y D r a w n B o y 's tea cosy hat was also slated, along with rap star M C H a m m e r 's baggy pants.
Confusingly, C h r i s t i n a A g u i l e r a 's leather chaps made it into both lists.
But it was the jump suit which emerged as a clear winner in the poll, with three entries in the top ten - Elvis, A b b a and J u s t i n H a w k i n s of The D a r k n e s s.
"Some outfits become so famous
their reputation lasts longer than the music,
or even the artist"
_________________Woolworth's spokesman.

The TOP 10

1. E l v i s P r e s l e y - white jump suit
2. K y l i e M i n o g u e - gold hot pants
3. S e x P i s t o l s - torn jeans and safety pins
4. M a d o n n a - conical bra
5. B r i t n e y S p e a r s - schoolgirrl outfit
6. K i s s - leather, studs, face paint
7. M i c h a e l J a c k s o n - red leather Thriller outfit
8. A b b a - flared jump suits
9. M i c h a e l J a c k s o n - black trousers, white socks, black shoes
10. J u s t i n H a w k i n s - white jump suit

The BOTTOM 10

1. B u c k s F i z z - rip-off skirts
2. B a d l y D r a w n B o y - tea cosy hat
3. M C H a m m e r - baggy pants
4. G e r i H a l l i w e l l - union flag dress
5. C h r i s t i n a A g u i l e r - a leather chaps
6. C h e r - see-through dress with visible thong
7. C h e e k y G i r l s - gold hotpants
8. K a t e B u s h - multi-coloured legwarmers
9. V i l l a g e P e o p l e - gay outfits
10. M e a t L o a f - frilly white shirt and matching hankie
---
That was a joke, Joyce... This is an AMATEUR fan site, operating under FAIR USE provisions.
It is NOT associated with any professional organization including the Ten Network, nor any of the artists, licencees nor rights-holders of whatever kind. All trademarks and copyright belong to their respective owners. No attempt is made to supersede copyright, etc, etc, etc. Any other appropriate disclaimers too.
My review commentary is "Hubba - Hubba !"